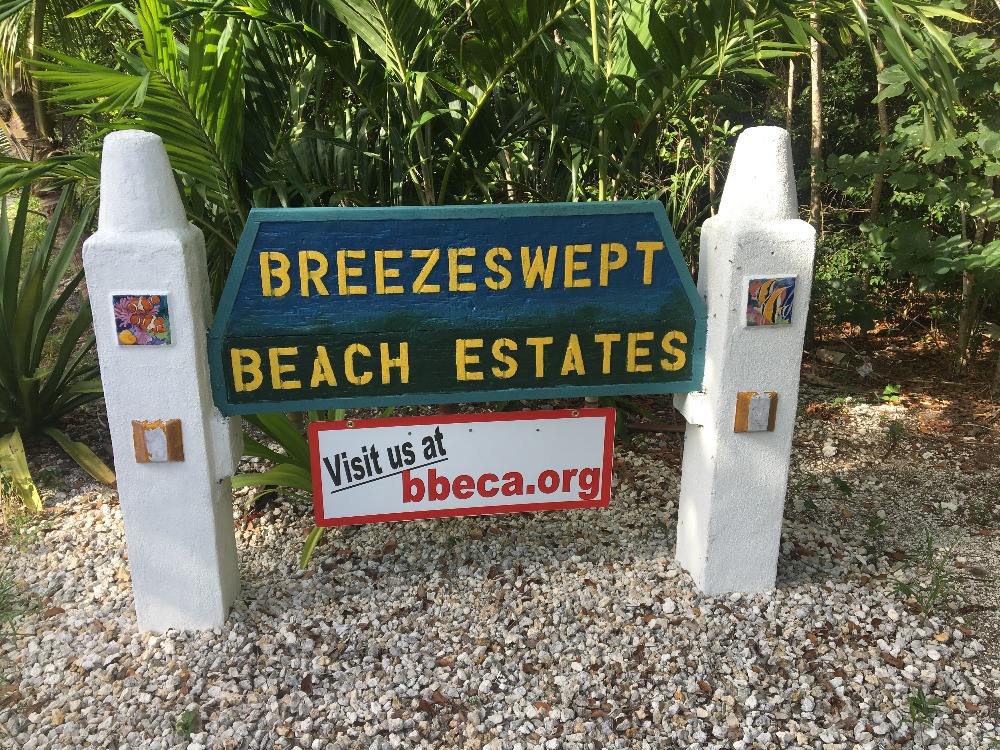 Mangrove Trimming
Hello, Neighbors and Friends!
BBECA will be conducting mangrove trimming on the main canal next week, March
18 through 22.
We ask our boaters to exercise a little extra caution during these four days. The barge is 40 ft in length, but only 12 ft beam, so passage will not be blocked.
Thanks for your patience.


Spring Social - March 28, 2019
Hello, Neighbors and Friends!
Please join us for our upcoming Spring Social at the home of our BBECA President, Corrine Shearer. Here is the info:
Date: March 28, 2019
Time: 4-6 pm
Location: 27360 Barbados Lane
This is a "Meet & Greet" Spring Social! Please bring an appetizer to pass around (Beverages and Finger Food Provided). We would love to see you there along with any new neighbors you can invite so that we can welcome them to our Wonderful Little Island!!
See you all there!!!


BBECA Member Meeting - February 16, 2019
Approximately 45 people attended the General Member Meeting. The Board reported that hard copies of the newsletter were distributed throughout the neighborhood in January and there are currently 89 members. Members are encouraged to share information about the association and distribute membership forms to neighbors. The installation of two new pilings (replace #8 and add #11) has been approved and work is on order with Coffin Marine. Following review of three bids, the members approved contracting with Radim Havlicek Tree Service to trim the mangroves in the main canal.  Work is expected to begin in late March. Planning is underway for the Spring Social which will be held no later than the first week in April. Five people have been trained through the University of Florida Community Outreach program and have begun testing the water in the canals. Open position on the Board include Vice President, Membership Chair and Navigation Chair.


Winter Social – January 24, 2019
More than 80 members enjoyed an evening of good food and visiting at Boondocks. Thanks to Social Committee members Barb Weeks, Stv Dalpias and June Crumley.
Board Meeting – January 10, 2019
BBECA is on the list with Coffin Marine to replace channel piling #8 and install a new #11. An updated permit is in process for trimming mangroves in the main canal, and three bids have been requested. A visit is planned to Looe Key Tiki to ask for a contribution to the project, and an offer will also be extended for individuals to contract directly for trimming on side canals. The County Commissioners have approved plans to put a tiny home on the "stairway to heaven" lot near the entrance so a new location will need to be found for the "Welcome" sign.  Training for Water Quality testing is set for January 12 and there are 6 volunteers. Final plans were discussed for the January 24 Winter Social. Electronic notices have been sent with a reminder to pay 2019 dues, and newsletter are being delivered to every home.  The next Member Meeting will be held February 16. There are open positions for Membership, Navigation and Website Administrator.
BBECA Member Meeting – December 8, 2018
About 50 members attended the meeting hosted by Tom and Lore Steifel.
The Board reported on the installation of new channel markers – thanks to John Baker, Jeff Kelly, Bobby Howard, Mike Shearer, and Bob Marvin. Pole #8 is cracked and a new pole #11 was proposed.  The members approved spending up to $1300 per pole for two new pilings. The welcome sign was damaged by a drunk driver.  A check has been received for $800 from the driver's insurance to replace it.   The Winter Social will be held at Boondocks on January 24th.  The Board plans to trim mangroves in the main canal in 2019. Three bids will be sought with more discussion at an upcoming meeting.  A training session is being planned for volunteers to do monthly water sampling.
Board Meeting – November 8, 2018
Channel markers need to be repaired.  A plan was put into place to purchase and install triangle and square safety markers for the ten poles, a No Wake sign and two One Way signs.  One piling is cracked and a repair estimate will be requested. Mangroves in the main canal were trimmed last in 2014 at a total cost of about $7000, and generally need done every 6 years. Following discussion, a goal was set to trim the main canal in 2019 as it is used by all members. The Board will get three bids, talk with commercial operators who use the canal, and file necessarily paperwork with the state.  The Cooperative Extension Service has been contacted regarding a water testing training sessions and volunteers will be contacted to assess interest. Information will be shared with members about resources and actions that members can take if they are concerned about lingering health and safety concerns following Irma. The Board will bring back Member Meetings with the next meeting set for December 8. Planning was started for the Winter Social in late January. Dues for 2019 will remain at $40 per family/$20 per individual.  Emails will be sent to members and a hard copy newsletter will be distributed to each home.
Spring Social Meeting – April 14, 2018
There was a very good turn-out at the social and everyone seemed to enjoy getting together after the difficult season recovering from the hurricane.  Speeding and clean up after pets remain problematic. Various solutions were discussed. Within the next few weeks, members who have not paid 2018 dues will be deleted from the website directory.
Board Reorganizational Meeting – March 28,2018
The Board of the Breezeswept Beach Estates Civic Association met to reorganize following Hurricane Irma. Volunteer positions were reviewed with openings Social Chair, Newsletter, and Membership. The meeting centered around planning for the Spring Social and addressing community concerns.