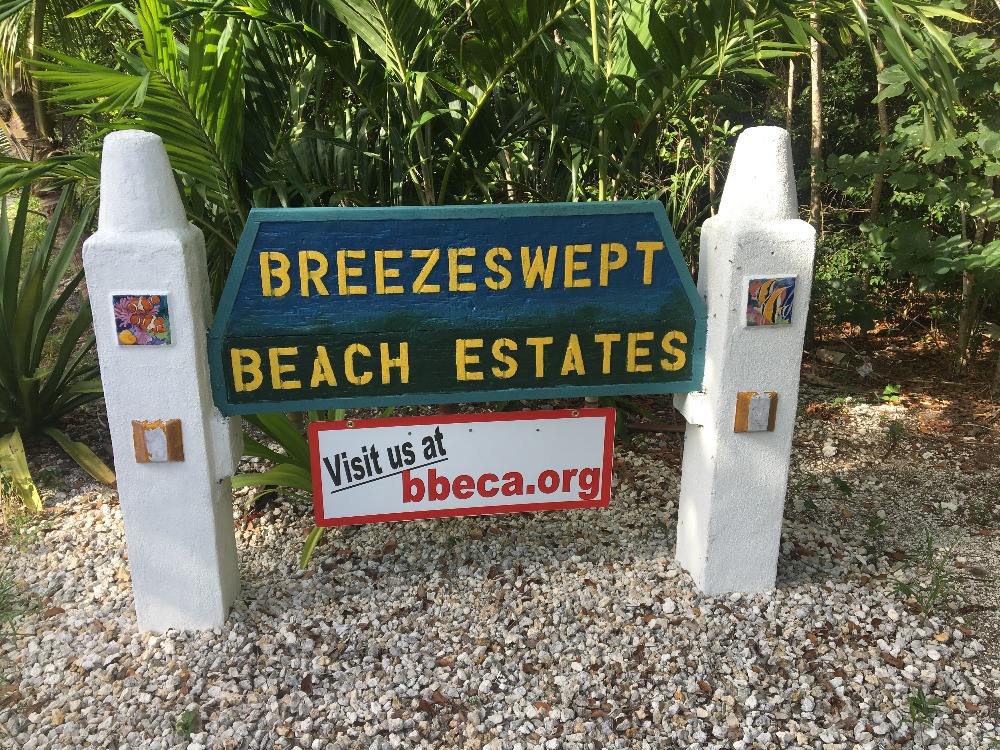 Board Reorganizational Meeting


Board of the Breezeswept Beach Estates Civic Association met on March 28 2018  to reorganize following Hurricane Irma.  Jamie Merkel is the new chairman, Corrine Shearer is the new vice-chair, Lily Corsello remains Corresponding Secretary, Dianna Tice is the new Secretary, Sherri Harper remains as Treasurer.  Committee chairs include Lisa Groene for Water quality, Bruce Harper for Landscaping, Dianna Tice for the Website, and Jamie Merkel for Navigation.  June Crumley, Carole Dehart and Ginny Donaldson have resigned as Social Chair, Newsletter, and Membership chair respectively.  Volunteers will be sought for those positions.

the meeting centered around planning for the Spring Social and addressing community concerns around pet clean up, the state of the culverts under West Indies, and dangerous speeding along our main roads.

Spring Social Meeting

The Board met again on April 14, 2018 before the Spring Social. Jamie reported that the culvert going through the pocket park is in good shape and working but the one at the top of the neighborhood is totally blocked. 
Speeding and clean up after pets remains problematic. Various solutions were discussed both at the board meeting and with the membership attending the social.  
The Members Directory on our website has been left open for anyone to add their information but now it is time to close it to dues paying members only.  Within the next few weeks, information will be deleted from the directory for anyone who is not a dues paying member, so if you wish to retain full use of the website and receive all notices and email blast from the association, please pay your 2018 dues as soon as possible. 

There was a very good turn out at the social and everyone there seemed to enjoy getting together as neighbors after the difficult season recovering from the hurricane.  Volunteers were found for the Social Committee: Barb Weeks and Stv Dalpias agreed to work together planning activities.  Volunteers are still needed for the newsletter and membership. Please consider getting involved as we are stronger together than we are separately!


BBECA Membership General Meeting

Meeting Minutes

Date       December 8, 2018

Present:
About 50 members present
Next meeting:
Winter Social - January 24, 2019 at Boondocks
I.      Call to order
In the absence of Association Chairman Jamie Merkel, Acting Chairperson Corrine Shearer called the meeting to order at 10:00 am.  Board members Sherri Harper, Treasurer; Lily Corsello, Corresponding Secretary; Dianna Tice, Secretary and Webmaster; Barb Week and Stv Dalpias, Social; Lisa Groene, Water Quality; and Paul Gerson, Board Advisor were introduced. Thanks go to Tom and Lore Steifel once again for hosting the meeting.

II.     New Channel Markers
The new markers are up, and it was discovered that we need a new pole at #8 because the existing one is cracked and a new pole will be added at #11.  It was on the charts but never placed.  The cost will be $1300 a pole and it was approved.  Thanks go to John Baker, Jeff Kelly, Bobby Howard, Mike Shearer, and Bob Marvin for their work.

III.   Entrance Sign Damage
Our entrance sign on West Indies was damaged by a drunk driver.  A check has been received for $800 from that driver to replace it.   New metal sign has been ordered (and since the meeting, it has arrived and been put up)

IV.   Treasurer's Report /Dues
The association has a balance of $20,767.

There are currently 40 family and 20 individual dues paying members.  A membership drive will be conducted to encourage more residents to join.  Dues remain $40 for families and $20 for individuals.  A newsletter will be distributed in January to every house.  Volunteers are being sought to do this.

V.     Winter Social
Barb Weeks, Stv Dalpias, and June Crumley are organizing our annual winter party at Boondocks on January 24th.  The Association pays half for each member.  Guests pay full price.  Details to follow.

VI.    Mangrove Trimming
Paul Gerson reported that the last time mangroves were trimmed in the main canal was in 2014, and it will need to be done again next year. Travis Ferguson of the DEC renewed our permit but a certified approved contractor must do the work. Two bids are coming and a third will be sought.  Last time it cost $7000 but it will be higher now.  Paul and Ralph Borland will negotiate with Looe Key to contribute as they died before.  Individuals may choose to contract for their own work on side canals.  Paul will coordinate.

VII.  Water Quality
Lisa announced that Shelly Krieger will train volunteers to do monthly sampling and testing.  Dates are available in Dec/Jan for training sessions.  Volunteers are being sought.

VIII.         Board Openings
A sign-up sheet was provided to fill vacancies on the board and volunteers are still being sought for the positions of Secretary and Navigation, Newsletter, and Membership chairs.

IX.   Open Issues From the Floor
1.     A question came up about the accessibility of the pocket park and whether residents could use it.  Katie Clark reported that residents could indeed use the park.  Signs posted there are to keep outsiders from using it.

2.     Bob Crumley reported that the association grill was still at his house.  Looking for members to move/store/or sell it.  The Social Committee will discuss this. Jeanine Smith has stored the association's tables and chairs but a new place must be found now to store them. Volunteers were requested.

3.     Barb Weeks asked why Ramrod has been neglected for landscaping near the bridges when other Keys have been replanted.  Also, the bike path along US 1 is cracked and damaged where hurricane debris was piled.  There is no longer at trash can at the fishing site at the bridge.  Does anyone know who to contact at the county?  Rick Harty offered to contact state people.

4.     Jamie Yatsuk expressed concern about the downed Bell South cable on West Indies.  It has been down since the hurricane and no one responds.

5.     Mary Ann Close asked if some of the association money cold be put in to a higher interest account.  If we had that we would have to file taxes.  We have no tax ID number.  Paul Gerson said that we are incorporated legally as a non-profit.

The meeting was adjourned at 10:39.